This page is best viewed "Full-screen"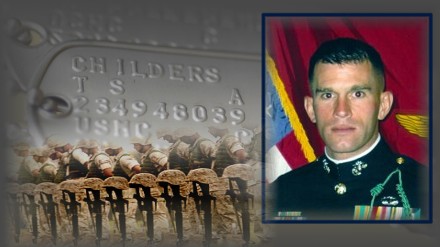 First of The Few, The Proud, A Marine
In Honor of 1st Lt. Therrel Shane Childers, USMC
By Nancy L. Meek ©2006
He has climbed the highest mountains,
his boy-scout eyes on the tasks ahead,
from "The Stumps" to the heavenly summits,
a true blue Marine, born and bred.


He has personified fierce-less energy,
purest valor in defending the meek,
determination in the face of a challenge,
a protector of the faint and the weak.


He's cradled newborn life in his arms,
embraced the love of family and friends,
mentored to those who would know him,
a candle aflame, ever-burning both ends.


He lived to experience his dream come true,
to be one of the few of his nation's elite,
to become, at last, the best he could be,
his heart and soul betrothed to "The Fleet".







He was labeled as "married to The Corps"
rising through the ranks with the best,
"good to go" since the day he was born,
a shining achiever when put to the test.


He was genuine, focused and disciplined,
doing the right things in the very best way,
making it easy to remember him, his vigor,
that deep laugh of his, forever and a day.


He's earned his stripes in the heat of battle,
the First of the Few to give all on the scene
by land, air or sea. . .to make peace or die,
proud through it all to be called "A Marine".


He has left his mark on the hearts of many,
filled them with pride and memories clear
when uncommon valor was a piece of cake
for Therrel Shane Childers, a man of no fear.


He's braved the valley of the war on terror,
been laid to rest beneath Wyoming sky
in the freakin' bosom of the land he loved.
Oorah! First of the Few, Semper Fi!


~*~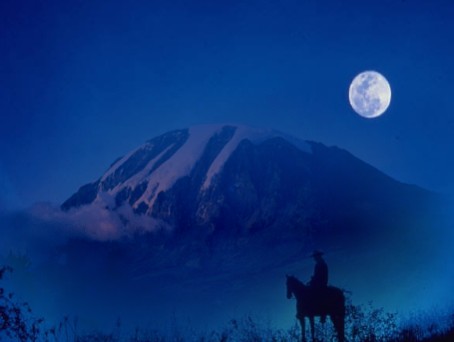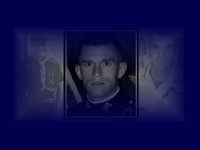 Second Lieutenant Therrel "Shane" Childers USMC, 30, was the first American killed in the war with Iraq on March 21, 2003. The Commandant of the Marine Corps has posthumously promoted him to First Lieutenant Therrel Shane Childers, USMC.

He was born June 19, 1972 in West Hamlin, West Va., to Joseph and Judy (Rose) Childers. He graduated from Harrison Central High School in Gulf Port, Mississippi in 1990 and joined the USMC in July 1990, completing basic training at Parris Island, South Carolina. He then attended Light Armored Vehicle Drivers training at Camp Pendleton, California. He served in the Persian Gulf during Desert Storm and following his return to the United States was stationed at Camp Lejeune, N.C.

He then was assigned to Marine Security Guard Duty serving at the American Consulate located in Geneva, Switzerland and then the American Embassy in Nairobi, Kenya. He then returned to Camp Pendleton, where he served with the First Light Armored Reconnaissance Battalion. While stationed there, he completed a Western Pacific Cruise. He then attended The Citadel after being selected for the Marine Enlisted Commissioning Education Program.

Upon graduation, he was commissioned a 2nd Lt. on June 15, 2001. Later he was transferred to Quantico, Va., to attend the Basic School and the Infantry Officer Course. He was then assigned as the Second platoon commander of Company A, First Battalion, Fifth Marine Regiment. He deployed to Kuwait on Feb. 4, 2003, with his assigned unit and was killed in action while leading his men during an assault on a pumping station on March 21.

His family shared that he was very inquisitive and that he loved to learn from others. They also stated he was proud to be a United States Marine.

At the time of his death, he was survived by his parents Joe and Judy Childers of Powell; a sister, Sandra Brown and husband Richard and their children Autumn and Aiden of Ft. Hood, Texas; a brother, Samuel Childers and wife Cori and their children Aksel, Hannah and Marta of La Salle, Ill.; paternal grandparents Wilton and Alma Childers of Salt Rock, West Va.; uncles and aunts David and Mary (Childers) Bias of Salt Rock, Donald and Brenda Childers of Salt Rock; Richard and Anita Childers of Huntington, West Va.; Judy and Mike Hayes of South Point, Ohio; Natalie and Greg Walker of Aid, Ohio; Kathy and Randy Templeton of Arnold, Mo.; Donald and Agnes Rose of Powell; Zenda and James Eby of Lubbock, Texas; 17 first cousins and numerous friends.

He was preceded in death by his maternal grandparents, Doug and Mae Rose of Weston, Idaho.

He was buried in Crown Hill Cemetery with full military honors provided by the United States Marine Corps.

Should friends desire, a memorial fund has been established at First National Bank and Trust, with the memorial to be used by the family to honor the memory of their son, Shane.

You may leave a memorial message for Shane on the web page dedicated to him at "Find-a-Grave"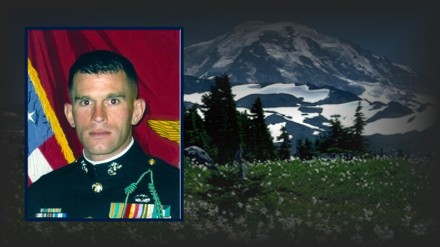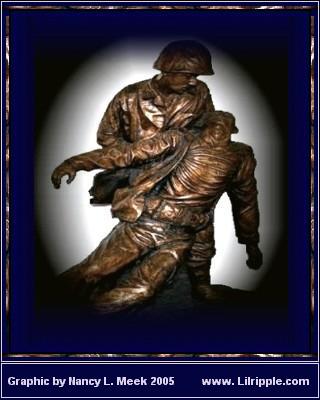 A fellow Marine gives a toast in honor of 1st Lt. Childers at a plaque dedication ceremony held for Childers at an American Legion Post in Charleston, South Carolina, where Shane graduated from the Citadel.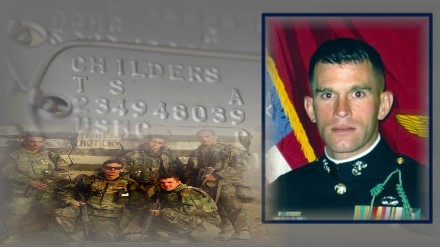 E-mail Your Comments To:
Lilripple@hotmail.com

Click On Dove To Return Home!



"First of the Few, the Proud, A Marine"
©Nancy L. Meek 2006
Thank You For Stopping By!