Quiet Power
by Nancy L. Meek ©12-29-01

Among the bustling Manhatten streets
a crane stands, silhouetted against the sky,
hovering hauntingly above the somber scene
its quiet power, like soot...still stinging the eye

New Yorkers will never be the same again
despite grandiose and pretentious displays,
for police officers, iron workers and firemen
not movie stars, are the celebrities these days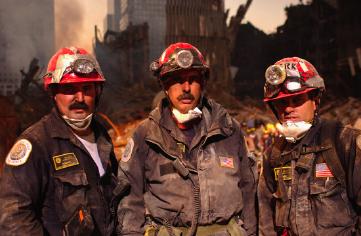 Fresh bouquets of flowers grace the fence,
placed there by persistent, caring hands
offering their heartfelt token of rememberance
its quiet power only the grieving understands

Along the busy street, a memorial to fallen heroes
still brings a tear to even the strongest of men
putting on stoic faces, they turn from the photos
its quiet power, like grapnels...still holding them





Among four-star restaurants and fashion shows,
a new era comes...of things real, versus the fake,
cool fashions discarded in favor of old clothes,
resurrecting what matters in the terrorists' wake

A new epicenter has replaced the old
as eyes turn toward that gash in the sky,
tearing hearts once upon a time grown cold
who know now, some things money can't buy

The fires in the pit seem to have stopped burning;
appearing, each day, less-ravaged than before
when the world for many stopped turning
when priorities became not so important anymore

Suspended in baskets overlooking the site,
somber workers gaze down from the sky
reciting prayers for those lost to the fight,
the need to cry mingling with a loving goodbye

Among the workers digging in the heart of it,
new bodies emerge, draped in red, white and blue,
escorted away...finally free of the towering pit,
their quiet power, like dust...still clinging to you.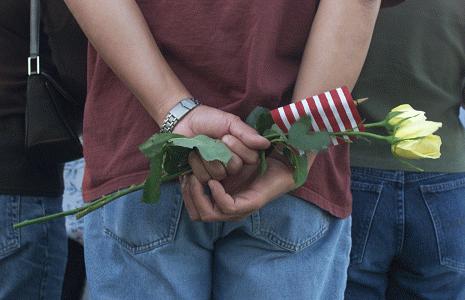 While the search continues for one, osama bin laden,
his image yet looms, from every angle and view
reminding us of a horror never to be forgotten
its quiet power, like missing faces...still haunting you.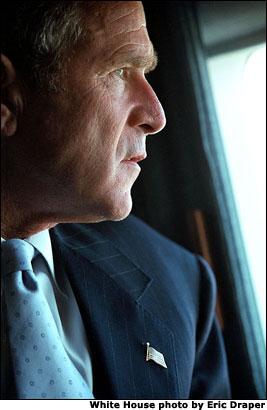 E-mail Your Comments To:
Lilripple@hotmail.com


Click On Dove To Return Home!

"Quiet Power"
©Nancy L. Meek, December 29, 2001

Thank You For Stopping By!